Matthew Abernathy with 74lb sow taken with Recurve bow on Wildcat Mountain Ranch in Robert Lee, TX.
Name: Mike Baier Unit: 33 Boar shot while hunting solo at around 35 yards with Hoyt Vipertech, Easton Viper 4000 ACA, and Thunderhead 100 grain 3 blade broadhead. Had hunted for two days with my brother and nephew and no luck. The last day came and they had to leave so I hunted on my own, inspired by a buddy who shot a Pope and Young Bull Elk on his 10th and last day of a hunt. I glassed up the group of about 10 at 150 yards at around 900am in some low level rolling hills basking in the sun and grazing on green grass. I had to walk away from them for 20 minutes in order to acheive proper windage in my face and find a quiet pathway, then I made my slow stalk which took about an hour and a half mostly on the bottom of a quiet rocky wash bottom with my heart pounding and hoping they're still there. Upon approach the primary Javelina I was targeting walked into cover and then this bruiser boar walked into the sights at 35 yards.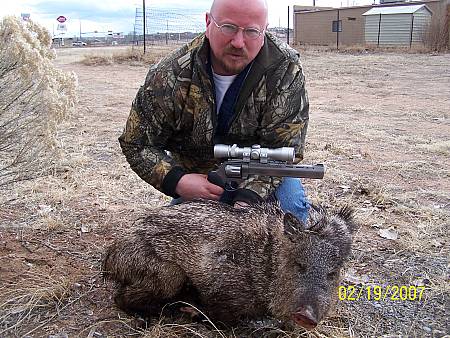 This is my first Javelina but not my last. Taken with a Taurus Raging Bee 218 Bee at 8 yards. Brian Lee.