ARCHERY HEADQUARTERS is the largest pro shop in Arizona. They strive to provide the best customer service and a wide variety of products. Whether you are a seasoned veteran or just getting started, It's their goal to make you the best archer possible.

ARCHERY HEADQUARTERS 6401 W CHANDLER BLVD #A CHANDLER AZ 85226 Phone 480-940-1814 Visit their website
HOURS Monday-Thursday 10:00 AM to 9:00 PM Friday 10:00 AM to 6:00 PM Saturday 9:00 AM to 5:00 PM Sunday (seasonal) 11:00 AM to 5:00 PM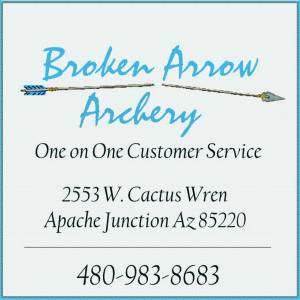 All Predator Calls.com features the largest Predator & Varmint Call selection on the Internet. Low prices, huge selection, fast shipping. Predator calls from manufactures like Johnny Stewart, Primos, Circe, Quaker Boy, Knight & Hale, Crit'R Call, Sceery, Carlton, JavelinaHunter.com, Burnham Brothers, Modern Call Products, Lohman, Hunters Specialties, FOXPRO and more.
Website: AllPredatorCalls.com Toll Free 1-888-826-9683